Etymology
The Drunken Dictionary: etymology of cocktails (part I)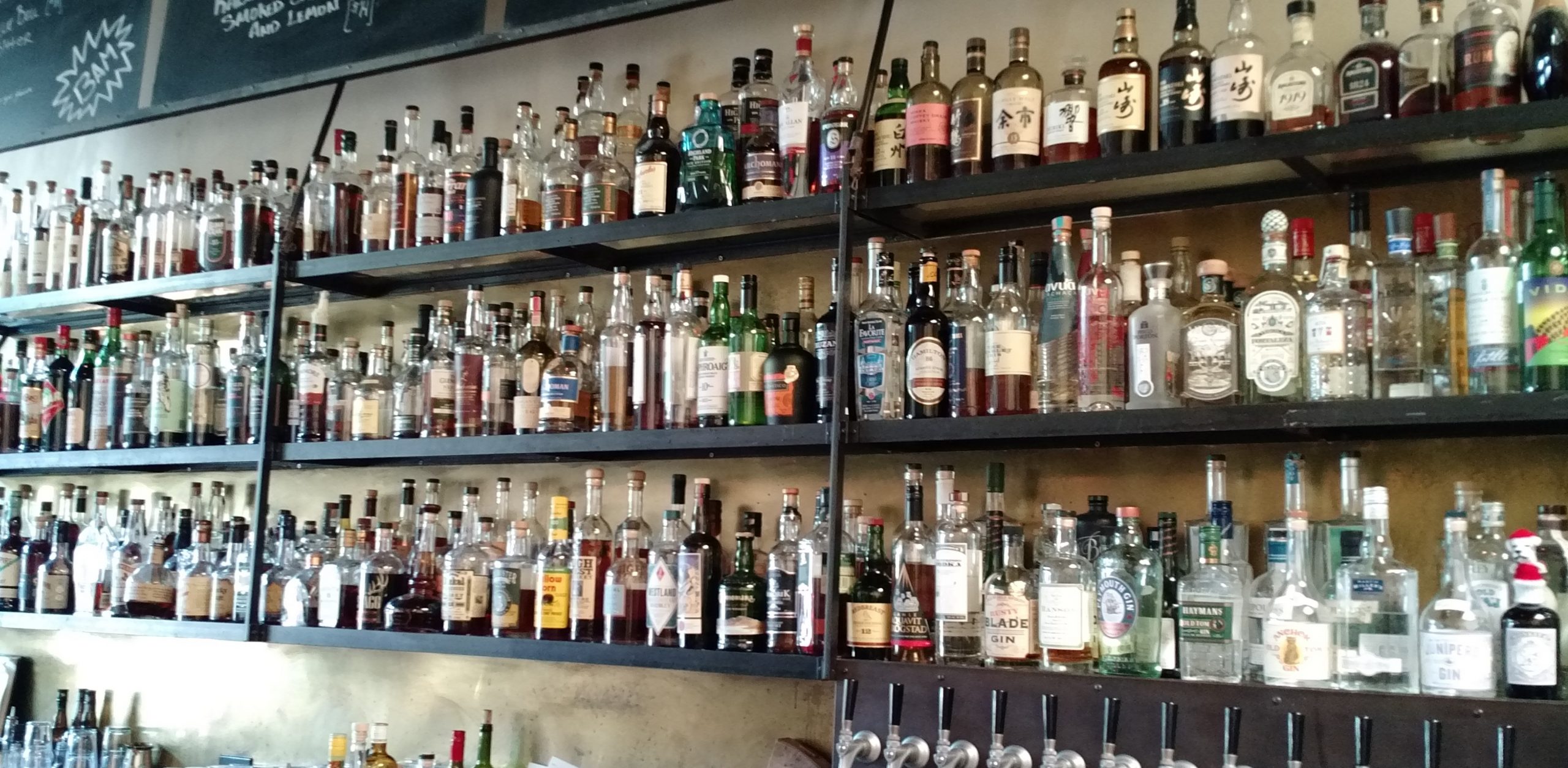 Cocktail culture in the U.S. (and in various countries around the world) has undergone an effervescent revival over the last ten or so years. Bartenders and drinkers in cities across America have become obsessed with rejuvenated classics – recipes from the 1870s through the 1950s – as well as with unique new creations, often featuring local ingredients and unusual spirits/liqueurs/spices/produce.
I took part in this crazy trend, bartending at whisk(e)y[1] and craft cocktail bars in San Francisco for seven years during grad school and after, as I tried to find a paying occupational home in linguistics. So it seems fitting that I write a piece or three blending these interests!
This post details the etymology of names for several popular whisk(e)y-based cocktails. Recipes for the drinks are also included. They're based on those from my last bar, The Alembic (one of SF's earliest craft cocktail establishments). A second post will cover gin-based beverages, and a third rum, brandy, vodka, and tequila concoctions.
The first print attestation for each cocktail name is taken from the Oxford English Dictionary. The OED is an incredible resource. Lexicographers have spent years transferring to digital format the Dictionary's massive amounts of information. Heading the website's About section: "600,000 words … 3.5 million quotations … over 1000 years of English". The yearly subscription is expensive, but you may have access if you're part of an academic (or business) institution. Check out a short version of the OED's history on their website. And if you want more / are curious about initial creation of the Dictionary, I recommend this fun historical nonfiction book by Simon Winchester: "The Professor and the Madman".
And now, down the boozy rabbit hole we go…
WHISK(E)Y
      Manhattan
The name for this rye and sweet vermouth libation first appears in print in 1882 in Democrat (Olean, N.Y.):
"It is but a short time ago that a mixture of whiskey, vermouth and bitters came into vogue. It went under various names—Manhattan cocktail, Turf Club cocktail, and Jockey Club cocktail."
Unsurprisingly, origin stories for the drink all point to a bar in New York – probably the Manhattan Club. Details beyond that are fuzzy, as things are wont to get when the brown spirit flows.
As for origins of the borough's name, the OED shows first attested use in 1659. A "Manhattan" was "a member of a North American Indian people formerly inhabiting Manhattan Island, N.Y." The word was borrowed from the Dutch Manathans, which in turn was borrowed from a native Munsee (Delaware) expression which meant something like "(where) one gathers bows".
Recipe
Add to mixing glass then stir with ice:

2 dashes Angostura bitters
1 oz sweet vermouth (I recommend Punt e Mes or Carpano Antica)
2 oz rye (I recommend High West Double Rye, Michter's US*1, or Rittenhouse)

Strain into coupe/cocktail glass or rocks glass (add ice if desired)
Garnish with brandied cherry (avoid maraschino cherries!)
      Old Fashioned
This delicious, simple drink is made with a bit of sugar, bitters, and bourbon or rye whiskey. It's served on the rocks, often with a citrus garnish. The OED has an initial citing from 1878 in The Janesville Gazette (Wisconsin):
"I had to set up the wine; but I enjoy a quiet cocktail with a friend much better than all their hollow display. Let's go down and get an old-fashioned drink all to ourselves."
OED also has a note about its origin:
"The old-fashioned cocktail is said to have been invented in the late 19th cent. at the Pendennis Club in Louisville, Kentucky. It was probably so named because of its similarity to early whisky cocktails."
Wikipedia sources give further detail on the above account, saying that by the late 1800s, when liqueurs were being added to cocktails, the basic sans-liqueur recipes were dubbed "old-fashioned".[2]
Recipe
Muddle small turbinado sugar cube with several dashes of water in rocks glass until sugar is mostly melted
3-4 dashes Angostura bitters; swirl glass to mix
large cube of ice
2 oz bourbon (I recommend Elijah Craig, Michter's US*1, or Eagle Rare)
Stir several times in glass with bar spoon
Garnish by spritzing lemon or orange peel over top of glass to add its oils; add peel to drink
          Sazerac
The OED's first quote containing the term is from 1941, in Louisiana: Guide to State (Federal Writers' Project):
"The most celebrated of New Orleans cocktails—the Sazerac—is a mixture of whisky, bitters, and sugar, served in a glass mixed with absinthe."
However, as with the Manhattan, this mixed drink seems to have been created closer to the mid-1800s. Merchants in New Orleans were importing a cognac called Sazerac-de-Forge et Fils; around that time a local bar (which had just been renamed to Sazerac Coffee House) supposedly began selling a beverage made with the imported cognac and bitters from Antoine Amédée Peychaud, a nearby apothecary. The primary spirit switched to rye around 1870, after French vineyards were ruined by the phylloxera epidemic. When the U.S. banned absinthe in 1912, other anise-flavored liqueurs were used instead (Herbsaint being the New Orleans alternative).[3]
Recipe
In chilled rocks glass:

4 dashes absinthe; add ice cube and swirl; dump cube

Add to mixing glass then stir with ice:

4 dashes Peychaud's bitters
0.25 oz simple syrup
2 oz rye (I recommend High West Double Rye, Michter's US*1, or Rittenhouse); alternatively, you can use brandy (cognac or armagnac)

Strain into chilled, absinthe-rinsed rocks glass
Garnish by spritzing lemon peel over top of glass to add its oils; add peel to drink
[1] Why "whisk(e)y"? Because Americans (with their bourbons and ryes), Irish, and a few other nationalities spell their products as whiskey with the 'e', while the Scots, Canadians, and Japanese spell their spirits whisky.
[2] https://en.wikipedia.org/wiki/Old_Fashioned#cite_note-5
[3] https://en.wikipedia.org/wiki/Sazerac#History
*Photo attributions: Manhattan section – "Ruby Manhattan" by Addison Berry; Old Fashioned section – "Classic Old Fashioned Recipe" at Whiskey + Honey; Sazerac section – "Tales of the Cocktail Sazerac workshop" by Julie McGalliard and "NOLA 2018" by Miguel Discart.
alcohol